By Thomas Tan -13/05/2022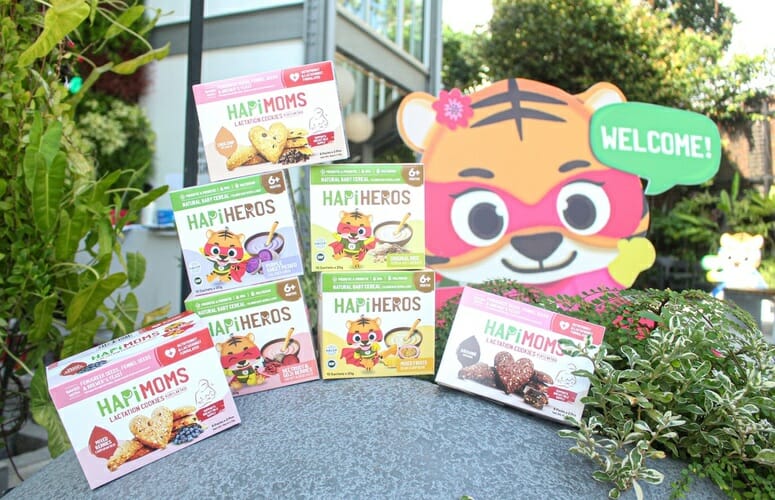 HapiFam has launched its new Hapimoms lactation cookies and Hapiheros natural baby cereal.
Hapifam, a portmanteau of 'Happy' and 'Family', is a home-grown Asian brand that features special formulas on its range of healthy products targeting specific members of the family, such as growing kids and lactating moms.
Under the Hapifam brand umbrella, Hapimoms is a nutritious treat to help mothers-to-be and breastfeeding moms through one of the most exciting periods of their lives.
The Hapimoms lactation cookies are made from natural ingredients that have been researched and selected by Hapifam in-house nutritionists and food technologists.
The cookies are made with fenugreek, Brewer's yeast, fennel seeds, organic coconut oil, blueberries, and other nutritious ingredients to help mothers boost their milk supply, making breastfeeding a happy and stress-free experience.
The Hapimoms lactation cookies are available in three flavours – brownie, chocolate chip and mixed berries.
Hapiheros is another brand under the Hapifam umbrella. The Hapiheros cereal range caters to children aged 6 months and above, and comes in four unique Asian flavours- original rice, mixed fruits, beet root and goji berry, and purple sweet potato. 
The cereals are packed with DHA for brain and eye development in young children. The cereals also contain multigrain that maintains good digestion; and prebiotic and probiotic levels to maintain a strong immune system whilst boosting and growing good gut bacteria.
Additionally, the cereal range is maltodextrin-free and tested free of heavy metals.
Hapifam introduced a special NFT project called HapiNFT which contains unique collections of NFTs –  Non-Fungible Tokens.  The limited edition NFT collection comes with free membership, special invitations to Hapifam events, free products, vouchers and other benefits.
The first edition of HapiNFT features Hapiboi in four different characters which are HapiBoi Feugo, HapiBoi Hydro, HapiBoi Rocky and HapiBoi Bolt.
Each of these characters represents a superpower inspired by the four elements – fire, water, earth and air. All of them have a special story and meaning that is aimed at representing Hapifam values.
The Hapiboi superheroes collection can be kept as a collectible or can be sold on the NFT marketplace.
As one of the few (FMCG) organizations to recognize the potential of the metaverse, Hapifam is already shaping the NFT market; and in its 2022 roadmap, the brand aims to penetrate the metaverse and expand further its influence.
Thousands of NFT cards will be randomly placed in Hapiheros boxes, and a lucky few could 'get' the minted NFT cards when they purchase the products. The information on HapiNFT can be found on the website https://hapifam.com/en/hapinft/
Hapimoms lactation cookies and Hapiheros cereal range are available for purchase, retailing at RM39.00 and RM19.90 respectively from www.astrafamily.co or Hapifam's official store on Shopee and Lazada.
Hapimoms and Hapiheros will also be available in selected specialty stores and pharmacies in Klang Valley.
Source: Hapifam launches lactation and cereal products for mommies and babies (yamchatime.com)