Weeks of preparations had resulted in a successful event with a fantastic turnout when VIPs, retailers, influencers, special guests and the media converged at Supesu @Mori Kohi for the recent HapiFam Launch. Surrounded by natural greenery right in the heart of KL, it seemed perfect to introduce HAPIFAM, a brand with the intent to promote health with a focus on Asian culture.
A brand that saw the opportunity to tailor foods for the needs of Asian parents, HAPIFAM's primary objective is to create nutritious products made from high-quality natural ingredients that taste great and are nutritious for both mother and child.
Both Mr Trent Young (Founder) and Mr Gwei (Co-founder & Distributor) spent years in product development, researching ingredients, perfecting recipes and eventually finding the right manufacturer for the job. We are proud to say that HAPIMOMS Lactation Cookies and HAPIHEROS Natural Baby Cereal are made with natural ingredients that contain no artificial flavours, colours, added sugar, salt or maltodextrin.
As one of the few FMCG organisations to jump on the Metaverse bandwagon, HAPIFAM also launched its own range of NFTs. Our HAPINFT is a unique Non-fungible Token(NFT) that is more than a regular digitised collectable. It comes with a free membership, special invitations to future HAPIFAM events, free products, vouchers, and so much more. The guests learned what NFTs are all about from special guests, Mr Fariz Hanapiah and Mrs Ellina Amin (NFT Influencer).
The first edition of HapiNFT features Hapiboi in four different characters, namely HapiBoi Feugo, HapiBoi Hydro, HapiBoi Rocky and HapiBoi Bolt, each with individual superpowers inspired by the four elements – fire, water, earth and air.
After giving each guest an HapiNFT card, Mr Gwei proceeded to brief everyone on how easy it is to redeem their assets through Enjin, a user-friendly and reliable platform. It is as simple as downloading the Enjin app, scratching the HapiNFT card and then taking a screenshot of the barcode. The first three guests who downloaded the apps received a second HapiNFT card as an incentive. On top of that, thousands of HAPINFT cards have been hidden in random HAPIHEROS boxes during factory production, so shoppers stand a chance of winning the minted NFT cards upon purchasing our products.
Event Activities and Games
Of course, no launch would be complete without some event activities and games! At the HAPIHEROS Natural Baby Cereal corner, guests were given a chance to use their creativity to build their own cereal bowls with the condiments provided. This gave guests an opportunity to get to know more about the product; they also gained first-hand experience playing with its texture and coming up with creative ideas to "dress them up." Upon completion, guests had to take a picture of their handiwork, upload it to social and tag their post with the hashtags #hapifam_my #hapifam #hapilaunch #hapiNFT to qualify as an entry. A panel of judges later narrowed the entries down to the top 3 most beautiful cereal bowls, and the winner went home with a small gift.
On the contrary, things were leaning more towards lady luck in the HAPIMOMS Lactation Cookies corner as guests were asked to guess the number of HapiMoms cookies in a jar and guess how many flavours there were. And yes, you guessed it! The winner was presented with the entire cookie jar. Delicious and nutritious, what's not to love.
It also seemed fitting for HAPIFAM to get some feedback for their products. A polling chart was also set up so that guests could cast votes for their favourite baby cereal flavour.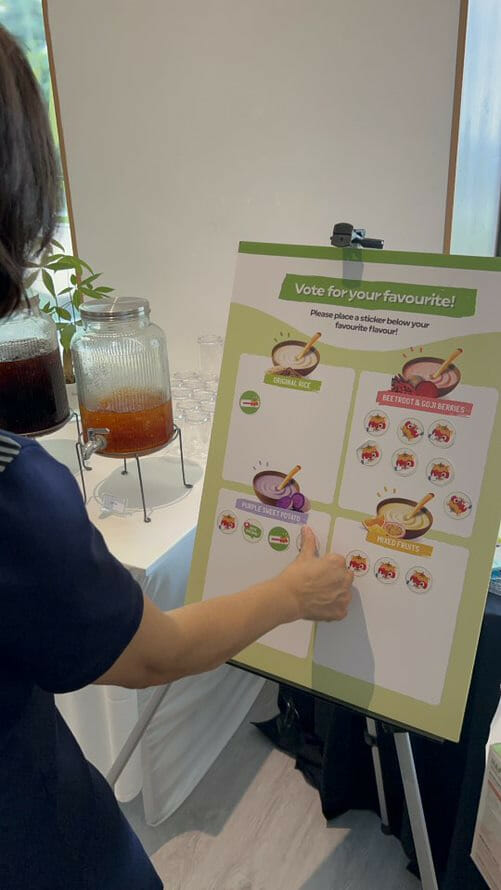 Later four volunteers were called to the stage to participate in a blind tasting game of Guess the Flavour of the Baby Cereal to win a small gift. In all good fun, it was funny to see everyone going up on stage and trying to disguise between original rice, mixed fruits, purple sweet potato, beetroot and goji berries. There were moments of minor prompting, hints, and laughter, but all in all, the winner went home with a small prize for the effort.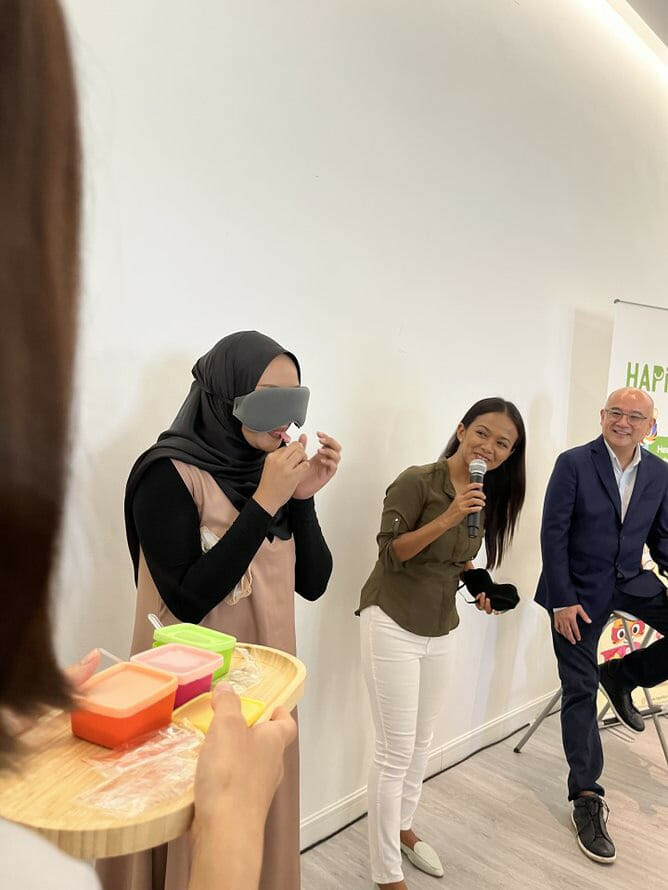 HAPIFAM's event launch came to a close with group photo-taking sessions with the guests and members of the media, followed by a light lunch and some refreshments.
Happy that the event was a great success and that everyone had a great time, we bid our guests goodbye with a parting door gift to remember us by. Grateful for their support, we hope to continue to develop healthy products and provide delicious food choices for Malaysian families and eventually across the region. With plans to expand into other categories and hopes to rope in health for the daddies as well in the near future, here's to seeing everyone again in the next launch!
HAPIMOMS lactation cookies and HAPIHEROS cereal range are available for purchase, retailing at RM39.00 and RM19.90 respectively, from www.astrafamily.co or Hapifam's official store on Shopee and Lazada. HAPIMOMS and HAPIHEROS will also be available in selected speciality stores and pharmacies around Klang Valley.